Impact of 2014 Ryder Cup at Gleneagles to be studied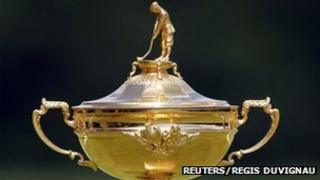 Researchers at Sheffield Hallam University are to carry out a study on the economic impact and benefits of the 2014 Ryder Cup.
Gleneagles will host the event next year, the first time it has been held on Scottish soil in almost 40 years.
The Scottish government has said the competition could bring in £100m.
The results of the study, which will be undertaken by the university's Sport Industry Research Centre, will be published after the event finishes.
The SIRC has previously carried out studies on the economic impact of golfing events including the Open Championship in Scotland.
Richard Hills, Europe's Ryder Cup director, said: "We are delighted to confirm the appointment of the Sport Industry Research Centre at Sheffield Hallam University.
"Assessing the economic impact of the Ryder Cup is of huge importance and we are confident that SIRC's extensive research and proven methodology will highlight the value of investing in this great event to our host nation, our host venue and event partners."
Legacy event
The eventIMPACTS study, which uses a method devised by SIRC, sees researchers gather information from a wide cross section of parties involved in the Ryder Cup.
That includes spectators at the event and post event; companies involved in staging and running the event; local businesses and local authorities servicing the event; and media and volunteers working at the event.
Paul Bush, chief operating officer of EventScotland, who are helping deliver the 2014 event, said: "The economic impact and legacy benefits of major events is now a key driver for countries looking to bid for events.
"No longer is it good enough just to put on a great show and leave it at that, we have to show the benefit it has brought to the country and I am delighted that SIRC, an organisation with a proven track record in this field, has been appointed.
"Our team at EventScotland played a key role in helping devise the eventIMPACTS method so I know how robust it is and we can be sure of a rigorous and comprehensive study to assess the impact of the 2014 Ryder Cup on Scotland."
'Awesome spectacle'
The legacy of the Ryder Cup will not only be assessed in terms of economic impact, the SIRC will also take into account charitable causes, transport infrastructure, golf participation, golf venues and businesses among others.
Prof Simon Shibli, director of SIRC, said: "After the brilliant recent editions of The Ryder Cup at Celtic Manor in 2010 and last year at Medinah, we welcome this opportunity to work with Ryder Cup Europe on another iconic event.
"Whilst spectators and television viewers see an awesome spectacle, behind the scenes there are significant economic and wider legacy benefits.
"We plan to measure these and to demonstrate the event's value to Scotland and its economy."