Dundee Council to consider £154,000 cycle lane investment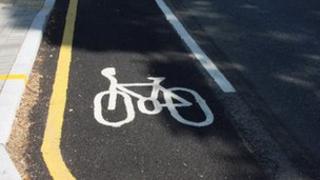 Councillors in Dundee are considering a plan to invest £154,000 on improving the safety of walking and cycling in the city.
The city development committee are being asked to back moves to use Scottish Government funds on measures to boost safety and access on its "green circular" route.
The networks covers 27 miles of paths around the city.
Members will vote on the plans on Monday.
The £154,000 plan involves lowering kerbs, upgrading pavements, increased outdoor access and filling in some of the "missing links" in Dundee's cycle paths.
Will Dawson, committee convener said: "For many years the city council in partnership with the Scottish government has been carrying out work on streets and paths to make it easier and safer to walk and cycle.
"What we want to do is to remove the real or perceived barriers to engaging in these healthy pursuits by making it as safe as possible to do them in Dundee."