Illegal card reader found at Dundee cash machine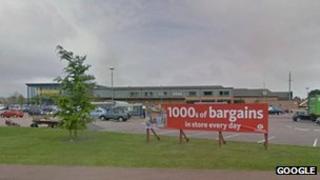 Police in Dundee have issued a warning to shoppers after a "skimming device" was discovered on a cash machine.
The machine was spotted by a member of the public at an ATM at Morrison's supermarket in Afton Way just after 09:00 on Monday.
Officers removed the fake fascia and are now trying to establish how long it had been there.
Skimming devices are designed to read cash and credit card details without the knowledge of the cardholder.
Anyone who suspects their cash card may have been compromised is being asked to contact the police.
They should also report it to their card issuer immediately.
Officers from Tayside division are carrying out a review of CCTV coverage.
Police said skimming devices were designed to appear genuine to the untrained or unsuspecting eye, but ATM users should check to see if anything is stuck into or onto the machine.
They said if anything looks out of place, people should not enter their card or PIN number but should immediately inform the authorities.