Census data shows Clackmannanshire population up by 7% since 2001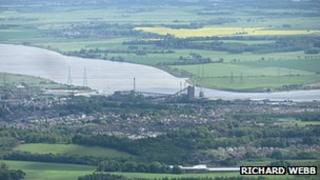 The number of people living in Clackmannanshire has increased by 7% since 2001, according to the latest census data.
There are 51,400 residents in the local area, compared with 48,100 in 2001.
Among the fastest growing sector of the local population were pensioners, with a 20.2% increase in people aged between 65 and 79 since 2001.
Clackmannanshire also saw the number of children-under-five rise by 7.5% over the last decade.
The census statistics have further shown there are now more women in the local authority area than men, with 26,300 female residents compared with 25,100 men.
Growing county
Deputy council leader, Councillor Craig Holden, said: "These results from the Census confirm the upward trend in the size of Clackmannanshire's population in recent years.
"The increase is partly because there have been more births than deaths, but mainly because more people have moved to Clackmannanshire than have left. It is good news for our county."
The number of households in the county over the last decade has also increased to 22,730 in 2011, up by 2,170, or 10.6%.
Clackmannanshire is the smallest council area in terms of population in mainland Scotland and includes the towns of Alloa, Dollar and Tillicoultry.