Thief jailed for robbing hospice shop in Kinross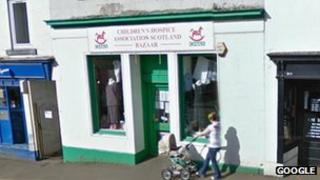 A thief who twice stole from a charity which supports children with terminal conditions has been jailed for 10 months.
Alexander McPhail stole cash and goods from the Children's Hospice Association of Scotland to feed his drug habit.
At Perth Sheriff Court, the 33-year-old admitted targeting the hospice shop in Kinross on 22 and 24 December 2012.
Sheriff Michael Fletcher told McPhail, who has 25 previous convictions, a custodial sentence was his only option.
McPhail admitted stealing a hip flask, a bottle opener and two candles from CHAS in Avenue Road, Kinross, on 22 December last year.
In a letter to the court, he also admitted that on 24 December he went back to the same place and stole a charity money box containing £100.
The 33-year-old also admitted stealing meat and other food during a string of other thefts.
Numerous convictions
The court was told that McPhail, from Kinross, who claimed to be a self-employed roofer, had 25 previous convictions.
He was caught on CCTV shoving items into a rucksack and leaving shops without paying.
Solicitor Cheryl Clark, defending, said: "He is a long-term drug addict. He had been working, but the weather meant he couldn't work and fell back into drug taking.
"He simply stole so he could get money for drugs. He is realistic about his prospects."
Sheriff Michael Fletcher said: "This was a series of offences, just committed one after another. I cannot deal with it any other way than a custodial sentence."
A spokesman for the charity condemned McPhail's crimes.
Frances Todd, CHAS retail manager said: "We were saddened to hear of the theft of the collecting can from the CHAS shop in December 2012.
"CHAS relies on the generosity of the public to help us raise over £8m every year to run our essential services.
"Our collecting cans provide a significant amount of this income, helping families from across Scotland at Rachel House in Kinross, Robin House in Balloch and through the CHAS at Home service."