Police from Forth Valley Division to target metal thieves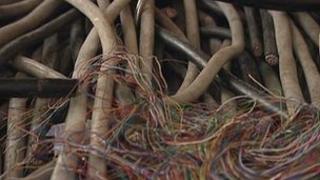 Police from the Forth Valley Division are to crack down on metal thefts in the area.
Officers said commercial and religious buildings had been frequent targets, but added there had also been thefts of copper cable from electricity lines.
They also warned of thieves taking items left outside homes such as washing machines, baths and copper tanks.
Police said the thefts are a result of an increase in metal prices.
Copper and lead have been the most commonly targeted metals with the price for both of them peaking during March.
Ch Insp Alan Waddell said: "The theft of metal has been an issue for a number of years, primarily due to the attractive prices offered for scrap metal by dealers.
"There has been a notable increase within the Forth Valley area in recent months and this increase is in line with rising scrap metal prices."
"We are looking for the public to come forward with information they may have regarding any suspicious activity they see or information on those they know or suspect to be involved in these crimes."