Alva based ILS bought over by Mears Group for £22.5m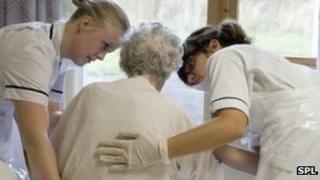 Scotland's largest home care provider, ILS, has been bought over by a company that specialises in social housing and home support.
The Mears Group has purchased the Alva headquartered firm for £22.5m.
ILS provides care for about 3,400 people in Scotland, has contracts with 20 local authorities and employs more than 1,600 staff. Last year it made an operating profit of £2.6m.
Mears said the move would allow them to roll out ILS services across the UK.
It added the acquisition complemented Mears' existing Scottish care operation.
ILS, which was founded more than 13 years ago, operates from 10 branches across Scotland.
Jobs secure
Its services range from short visits to elderly people to intensive round-the-clock care.
About half of their business is in care for people aged above 70, while 40% of business is in care "at the acute end of the spectrum".
Executive chairman Scott Christie said he does not anticipate job losses as a result of the takeover.
He will stand down when the deal concludes next week, while the rest of the management team is expected to stay on.
David Miles, chief executive officer of Mears said: "Fundamentally, the acquisition will provide Mears with the platform to provide higher acuity home services across the UK, complementing Mears' existing care capabilities and developing the capability to offer longer term continuing healthcare in the home, an area in which Mears does not currently operate.
"We look forward to welcoming the ILS employees into the group as we continue to build the range of broader health and social care services for our clients.
"The acquisition provides Mears with an excellent geographic fit with Mears' existing care business in Scotland with limited branch overlap and will increase our presence in Scotland."