Teenager injured in Perth nightclub attack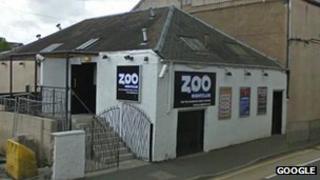 A teenager has been treated for facial injuries after being attacked at a nightclub in Perth.
Police said an 18-year-old was assaulted by three men at the Zoo nightclub in Canal Street at about 01:00 on Sunday.
The three men are understood to have approached the teenager while he was on the dance floor, before knocking him to the ground and repeatedly punching him.
He was attacked again outside the club, suffering a fractured cheekbone.
Officers said the three suspects then ran off.
Hooded top
An ambulance was called and the man was taken to Perth Royal Infirmary for treatment.
All three attackers are thought to be about 18 years old.
One of the men was described as being 5ft 7in tall, of medium build and wearing a black or red hooded top.
The second attacker was described as being 5ft 9in, of medium build, clean shaven with long brown curly hair.
He was wearing a light grey V-neck woollen jumper with a white T-shirt underneath, black baggy jeans and dark shoes.
The third man was described as being 5ft 7in tall with short black hair combed over to the side. He was wearing a grey jumper.