Sandstorm affects road visibility across parts of Angus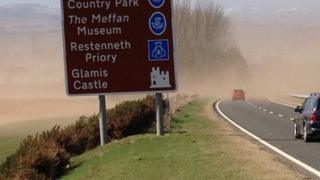 The area around Forfar and Kirriemuir in Angus hase been hit by sandstorms causing reduced visibility on roads, police said.
Winds through the Strathmore Valley caused sandstorms over the A90.
The A94 between Forfar and Glamis and the A926 from Forfar to Kirriemuir were down to zero visibility earlier, and sand build-up at the side of the road caused an additional hazard.
Police Scotland urged drivers in the area to take extra care.
Tayside Road Policing Unit's PC Willie Strachan said: "If you can see sand blowing over roads in the distance, then it's best to stay off them."
Sand and dust storms have also been affecting Moray, with the council warning drivers to take care.
A spokesman said strong winds were again blowing sand off fields as the spell of dry weather continues.
Last week snowploughs had to be used to clear roads of drifting sand and soil blown from surrounding fields.
The National Farmers Union said the impact on crops in the area could cost farmers tens of thousands of pounds.