Forth Valley Royal Hospital to play birdsong and snoring to help patients sleep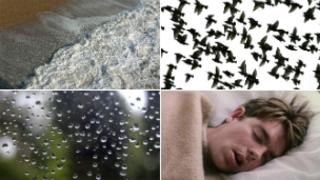 A hospital radio station in Stirlingshire is to play recordings of birdsong and snoring to patients to help them sleep.
Visitors to Forth Valley Royal Hospital will able to tune into the soothing sounds through bedside radios.
Radio Royal's new arts station, Channel 604, will begin broadcasting the sonic "therapy" from Saturday, 27 April.
The programme was created by the hospital's digital artist in residence, Mark Vernon.
Radio listeners at the hospital in Larbert will be treated to a range of programming; the first is called The Tonic Garden, which features relaxing sounds including rain, waves, birdsong and snoring.
Mr Vernon described the broadcast as "a sonic survey of soothing sounds, designed to put even the most sleep-deprived patient into a slumber".
Annoying sounds
He said: "I have been trying to find out what sounds people find relaxing. Ironically sounds that actually annoy some folk are pleasing to others.
"For example one woman told me that her favourites were her husband snoring and a loud clock ticking so I have included these.
"It's such a subjective thing but I have tried to make it as varied as possible."
The digital artist interviewed Forth Valley Royal Hospital staff, Radio Royal volunteers, people from Falkirk and District Association for Mental Health and members of the public.
Mr Vernon added: "I have tried the results out at on a small audience when I aired an excerpt at an event in Glasgow. The feedback was that it was a very restful experience - some of them felt they were actually drifting off."
Future Channel 604 programmes include a "soundscape" of the hospital, featuring the noise of the mail and pharmacy robots, patients exercising in the physiotherapy gym, and snippets from the neonatal ward, the renal department and the laboratories.
The "Bedside Radio" series has been developed by Mr Vernon over the past year.
Each programme will be played on a looped cycle, for a different kind of listening experience where listeners can drop in and out at any point and tune back in later.