Dundee online city of culture campaign gains professor's support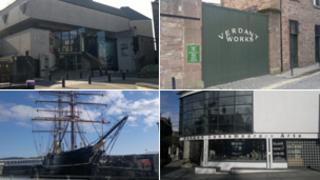 An online campaign to secure Dundee's place as the next UK City of Culture has gained the backing of the principal of the University of Abertay.
Prof Nigel Seaton has added his support for the wedundee petition, which is seeking to collect 2,017 reasons why the city should be selected.
It comes a week before Dundee has to submit its official bid on 30 April.
The city is one of 11 places, including Aberdeen, hoping to achieve culture status for 2017.
The wedundee.com website asks locals to each submit their response to one question: "What surprises you about the city?"
It was started at the beginning of the month by the digital arts group Fleet Collective and has already gathered more than three quarters of the target submissions.
Prof Seaton, who moved to Dundee last year to take the post of Abertay University's principal, said: "I'm delighted to be backing the wedundee campaign for our beautiful, creative city to be awarded UK City of Culture status in 2017.
"Since moving to Dundee it has been a genuine pleasure to see just how much creative activity there is here, from the computer games and digital art students at Abertay, to the great work coming out of Duncan of Jordanstone, the thriving local music scene and much more.
"And with the V&A at Dundee project, there really has never been a more exciting creative and cultural time for Dundee.
He added: "I'm calling for staff, students and alumni of Abertay University to back the bid for UK City of Culture, and for everyone who loves Dundee and cares about our city to get involved too."
'Strong contender'
Lyall Bruce, wedundee campaign organiser, said: "It is really exciting that the city has taken to the wedundee project in this way and that we have the support of Prof Seaton and Abertay University.
"For too long Dundee has not shouted about itself and its great cultural heritage and resources.
"This really feels like the start of an amazing journey for our city and its people, and we're confident that Dundee is a very strong contender for UK City of Culture 2017."
The team behind Dundee's bid has said it will highlight the presence of facilities like the V&A at Dundee, Dundee Rep theatre, the Dundee Contemporary Arts and The McManus.
The universities of Dundee and Abertay, alongside Dundee Heritage Trust and a range of local attractions and events, will also be used to advertise the city's cultural credentials.