Unclear paperwork led to engineers working on open rail line, RAIB says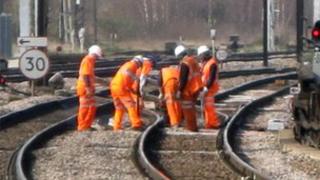 Changes to how paperwork is filled in have been suggested after a section of railway track near Dunblane was reopened while engineers were still carrying out work.
The incident happened on the Stirling to Blackford line on 28 October 2012.
A Rail Accident Investigation Branch (RAIB) report found workers had been on site for 54 minutes after Network Rail reopened the line.
The error is believed to have occurred due to mistakes in paperwork.
The RAIB report said work was scheduled by Network Rail to be carried out on the track on the night of Saturday 27 October into the next morning, between the last train on Saturday and the first on Sunday.
At 07:04 on Sunday the person in charge of the track possession (PICOP) told Network Rail that work was complete and authorised the reopening of the line to normal traffic.
Line reopened
However, maintenance involving seven staff and a road-rail excavator was still ongoing on the track at Ashfield, north of Dunblane.
That work did not finish until 07:58 - 54 minutes after the line had been reopened.
The RAIB said there had not been an accident only because no trains were scheduled at the time, but it warned no measures had been in place to prevent an unscheduled train, an engineering train or an on-track machine from being routed towards the work site.
The report found there were several factors that may have caused the incident.
Form filling
It noted the PICOP did not record the details of the Ashfield work site on the list of work site forms intended for that purpose.
The report also said the PICOP was very likely under stress from events outside of his work which may have made him susceptible to making errors.
It further found that the number of work sites had increased from three to four just before the possession started and primary work was listed after secondary work on the briefing which may have led to work being overlooked.
The RAIB have recommended that possession arrangements forms should always be filled in correctly and immediately.
It has also suggested that time should be set aside to matters of staff that might have a bearing on their performance at work and that this should be scheduled with a thought to any to any safety critical role being carried out.
The RAIB report further suggested that work sites be listed in a logical order on the possession paperwork to reduce the risk of errors.