Cruel puppy breeder Charles Swan given confiscation order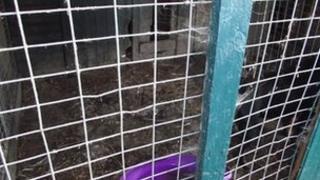 A man jailed for mistreating puppies could have £12,000-worth of any future assets seized under proceeds of crime legislation.
Prosecutors said the confiscation order made against Charles Swan was the first to target a person convicted of animal cruelty in Scotland.
Swan, 67, admitted keeping puppies in squalid conditions, which he sold from a farm near Stirling.
He is estimated to have made £12,340 from criminal conduct.
At Falkirk Sheriff Court, a confiscation order for £1 was made against Swan because he was found to have no money to pay the larger amount.
The confiscation order gives the Crown the right to seize any future assets, up to the amount Swan benefited from his crime.
Swan, from Stirling, was jailed for eight months in March.
He previously pleaded guilty to contraventions of the Pet Animals Act 1951 and the Animal Health and Welfare Act 2006.
Officers from the Scottish SPCA searched Darnbogue Farm, Airth, in August 2011 on complaints that puppies were being sold in a poor condition.
They rescued 57 animals, several of which required veterinary care because they were kept in squalid conditions without adequate bedding or food.
A large number were suffering from infestation and illness consistent with negligence.
Lindsey Miller, head of the serious and organised crime division at the Crown Office and Procurator Fiscal Service, said: "Our specialist forensic accountants have fully assessed the financial position of Mr Swan and discovered that he has no assets with which to pay a confiscation order.
"However, even in cases such as this, the legislation allows for confiscation orders to be made for nominal sums where there has been considerable financial benefit to the accused.
"The nominal order has the effect of preserving the Crown's position, meaning that if Mr Swan obtains any cash or assets in the future, the Crown can ask the court to recalculate the confiscation order."
She added: "The message to criminals is clear. We will continue to use innovative ways to pursue anyone who has profited from illegal activities, regardless of the nature of their offending and even if this means taking income made legitimately after the date of conviction."