Dog attack man Derek Duncan jailed for assault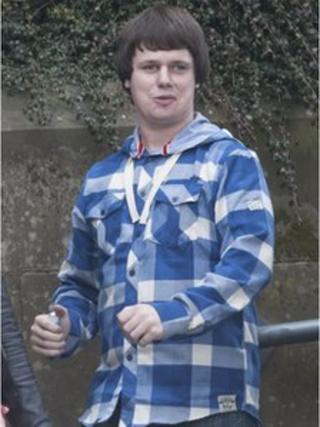 A man has been jailed for three-and-a-half years for an attack on a woman with cerebral palsy during which his dog mauled her face.
Nadine Crowe's ear was left hanging off after the attack in Dundee in May 2012.
Derek Duncan, 24, of the city's Cardean Street, said "good boy" to the animal after the assault.
Passing sentence at Dundee Sheriff Court, Sheriff Elizabeth Munro described Duncan as "self-absorbed" and "vicious".
The court heard that Duncan, who has been jailed on three previous occasions, and his victim had been friends and shared a flat in Mains Loan, Dundee.
Miss Crowe told the trial that Duncan launched a violent attack after she threw out leftovers from a carry-out meal.
She offered to buy him a new meal, but he replied: "I don't want a new meal - I wanted that one."
She said he then started to slap her - before pinning her down with his knees and repeatedly punching her on the face.
Miss Crowe added: "While he was punching my face his dog bit my left ear."
'Dreadful case'
The court was told that 45 stitches were required to re-attach her ear.
Duncan has refused to tell police where his dog, a Staffordshire Bull Terrier called Kaii, is being kept, or hand it over to be destroyed.
A jury found him guilty of three charges, including assaulting Nadine to her injury and offences under the Dangerous Dogs Act.
As he was led to the cells, Duncan winked at his family and said: "At least they can't put the dog down."
Sheriff Munro told Duncan: "This was a dreadful case and very upsetting for those involved.
"At one stage when Nadine was giving evidence there were members of the jury in tears - not that you would have noticed, you're so self-absorbed.
"The attack by the dog wouldn't have happened had you not been attacking Nadine at the time."