Former footballer jailed after 'bust up' in KFC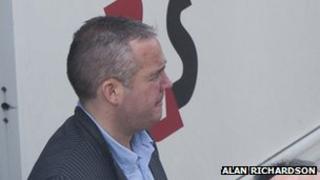 A former footballer was jailed for two years after being arrested while drunk and in possession of a knife.
John Carling was arrested by police after a "bust up" in a KFC restaurant in Dundee.
When taken to police headquarters he was found to be in possession of a lock knife, hidden in his pocket.
The 38-year-old, who holds an MBA degree, was a footballer for both Dundee and Arbroath.
Fiscal depute Nicola Gillespie told Dundee Sheriff Court that Carling was now an unemployed alcoholic reliant on state benefits.
She said: "At 19:35 on 11 May police received an anonymous call that there was somebody within KFC in High Street that appeared to be under the influence of alcohol, so much so that police were called.
"Officers traced the accused within the premises and he was taken outside.
"He was physically swaying and smelled very strongly of alcohol.
"His demeanour was generally aggressive."
The court heard how Carling had been taken to the station and asked if he was in possession of any sharp items.
After Carling confirmed that he was, he was searched and officers found the silver lock knife with a seven centimetre blade within his inner left suit jacket pocket.
Ms Gillespie added: "In relation to possessing the knife he said 'I bought that knife yesterday - I planned to go hunting with it'."
Breached bail
Carling, of Dundee, pleaded guilty on indictment to possessing a lock knife and breaching bail on 11 May.
He further admitted additional charges of drink driving, twice breaching bail and breaching a community payback order, and was earlier convicted of a charge of being drunk in charge of a car.
Defence solicitor George Donnelly said: "He was once a professional sportsman - this has been a spectacular fall from grace.
"His football career was cut short by injury but he went on to tertiary education, got an MBA and set up a successful business.
"That business involved a lot of socialising and glad-handing.
"Matters began to fall apart in 2008 when his marriage foundered, and now his liberty has been lost."
Disregarded opportunities
Sheriff Richard Davidson jailed Carling for a total of 23 months.
He said: "You don't have any sympathy from the court - following your earlier convictions your response was to breach your bail conditions to stay of a sober disposition on two occasions.
"You disregarded the opportunities that were given to you, and finally, when professionals were trying to address your alcohol problems you are found in the High Street with a knife in your possession.
"That was while you were on two bail orders, further flouting the law.
"You were there with this knife and got into a disturbance, and were so hopelessly under the influence you didn't know what you were doing.
"Those are the circumstances where innocent people suffer serious injury and death as a result of the use of knives.
"You have had all the opportunities you are going to get, and you will be spending a considerable time in prison."