Scotland's charity air ambulance alters operating hours to meet demands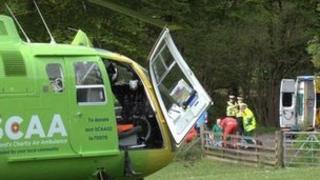 The operating hours of Scotland's first charity air ambulance have been changed to cope with demand at certain times of the day.
Until now the helicopter had been flying up to 10 hours a day between 08:00 and 18:00 from its central base at Perth Airport.
But the pattern of callouts showed that the vast majority of deployments happen later in the day.
New operational times from 10:00 to 20:00 have now been introduced.
The move has been supported by both the Scottish Ambulance Service and Bond Air Services - the Scottish Charity Air Ambulance's (SCAA) operational partners.
SCAA chief executive Gavin Davey said: "We always intended to review working hours after our first three months of operations but after 61 missions in seven weeks it became clear that in order to be able to respond to more emergency calls and better serve the public, an adjustment was required right away."
Since launching at the end of May, there have been no calls for SCAA assistance before 09:00 and only three between 09:00 and 10:00 but on several occasions they have been flying after 18:00, over-running SCAA's normal operating period.
SCAA only operates during daylight hours and the hours will be pushed back gradually as the evenings darken.
The air ambulance has responded to almost double the number of expected calls since launching in May. On its busiest day it flew three missions within a few hours.
The launch of the service was the culmination of four years work by a small team of individuals from public, private and third sector organisations.
The air ambulance has responded to car and motorcycle accidents, emergencies such as heart attacks and breathing problems, trauma emergencies such as serious falls, head injuries and even a light aircraft crash.
It costs about £1.5m each year to fund the aircraft, pilots, paramedics and charity staff.