Man from Dundee guilty of raping two women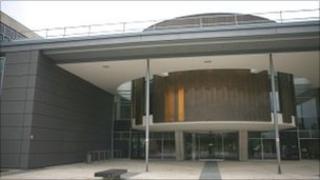 A man who subjected two women to months of physical and sexual abuse has been told he faces a lengthy jail sentence.
Kevin McFie, from Dundee, was found guilty of raping two women aged 20 and 21.
He was also found guilty of gagging the 21-year-old woman, before holding a knife to her throat and threatening to kill her.
The 31-year old, who had denied 18 offences, will be sentenced at a later date.
The High Court at Livingston heard how McFie frequently snapped without warning because of his volatile temper.
Kitchen knife
A jury convicted McFie of raping and strangling a 20-year-old student in his home in Dundee before binding and gagging her.
He held a kitchen knife at the woman's throat and threatened to kill her during the ordeal, the jury was told.
He then made a mobile phone call before telling her that he'd arranged for someone to come and "take her away".
The girl fled to her mother's home in Arbroath and made up a story that she had been attacked in the street in a bid to explain her facial injuries.
McFie was also found guilty of raping a 21-year-old woman and repeatedly beating her up during earlier incidents.
The jury was told he threatened to kill his victim if she told anyone what had happened.
Taser gun
He was also found guilty of attacking the older woman's father in the street and smashing his glasses into his face.
McFie pled guilty to possessing a Taser gun and to grabbing a former friend, Chris Brookes, by the throat pushing him against a fence and punching him repeatedly.
However, he was cleared of two further rape charges and the jury ruled there was no case to answer in a further allegation that he "Tasered" one of his victims.
Judge Lord Boyd warned McFie that he faced a lengthy jail sentence for his crimes.
The 31-year-old will return to court for sentencing at a later date.