Perth mother abandoned children in filthy flat to go drinking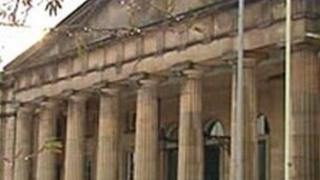 A mother abandoned her children in a filthy flat while she went out drinking, a court has heard.
Perth Sheriff Court was told the brothers, aged four and 11, were only discovered by neighbours after the youngsters alerted them.
They said their mother was missing and they were worried about her because they could not reach her on her phone.
The woman was placed on an 18-month community payback order and required to get alcohol treatment.
The court heard the 36-year-old, who cannot be identified for legal reasons, had left the boys behind to go out drinking for hours.
Fiscal depute Jim Eodanable said: "At approximately 5pm the boys knocked on the downstairs neighbour's door.
"The children indicated they were concerned about their mother because they were unable to contact her by phone.
"The neighbour ascertained they had only eaten chocolate bars all day and she organised something for their tea."
Several neighbours unsuccessfully searched for the mother but managed to get a hold of one of the children's relatives from Poland.
Unsanitary conditions
The court heard how the older child told a neighbour that they had not been attending school because their mother was unable to facilitate it due to her drinking.
The neighbour then went upstairs to get them clothing, including pyjamas, and was struck by the unsanitary conditions within the living room of the property.
Mr Eodanable told the court: "There appeared to be urine and excrement on the sofa and foodstuffs which had been partly eaten but left."
He added that the children's rooms were much cleaner.
The court was told that it was close to midnight when the mother was eventually traced and arrested.
She admitted two charges of wilfully neglecting or abandoning the children, by leaving them in a flat without food and drink and in unsanitary conditions on 15 June.
Struggling alcoholic
Solicitor John McLaughlin, defending, said the local authority had taken the children into care for their own protection because of the danger posed to them.
He said his client had been struggling with an alcohol problem for a number of years and was embarrassed to send her children to school because of their condition.
He also added: "Her life, to an extent, was disintegrating around her ears. She fully appreciates the main concern for everybody is the welfare of the children.
"Lack of resources meant she was embarrassed about the children going to school in that condition and she resolved to keep them off.
"It has been a wake-up call for her, realising how far she had let things slip. She realises now she can't just have one drink - it has to be complete abstinence.
"She has done her children no service by her actions. She is looking for an opportunity to get her life back on track."