Dundee drug gang caught with £200,000 worth of heroin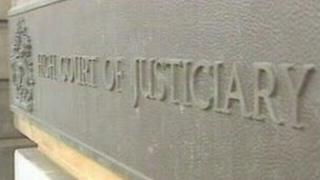 A man in charge of a drugs operation that planned to bring £200,000 of heroin into Dundee has been jailed for six and a half years.
Nicki Hunter, 31, was sentenced along with three other men after being caught with the haul.
About two kilos of the Class A drug were intercepted by police while being delivered to Dundee from Glasgow.
The High Court in Edinburgh heard that when arrested Hunter was on bail for another drugs offence.
A judge told the 31-year-old that he had clearly been in charge of the Dundee end of the operation.
Lady Scott told him that he had "a far more serious record" than his co-accused and his position was aggravated by being on bail at the time of the offence for another drugs matter.
Sean Massey, 22, of Dundee was also jailed for three and a half years for his part in the operation.
Hunter and Massey were earlier found guilty of being concerned in the supply of the drug on 15 November last year at the city's Tranent Walk.
Co-accused courier Raymond Cossar, 27, of Glasgow, and Sean Campbell, 25, of Dundee, were each jailed for three years after earlier admitting their involvement.
Serious crime
Lady Scott told them: "This offence involved a relatively simple purchase and supply of a substantial amount of the Class A drug heroin."
The judge said it was a serious crime because of the amount and value of drugs involved.
She said the offence was confined to one day and none of the accused could be described as at the higher end of the supply chain but there was no alternative to custodial sentences.
Lady Scott told Hunter that he had been the individual who was clearly in charge, while Massey acted as look-out on his instructions and Campbell was carrying the money for payment.
She told Massey that she accepted he was very much "the foot soldier" and Campbell that for him the offence was "out of character".
The judge told Cossar that in giving evidence he appeared eager to minimise his responsibility and showed "no genuine signs of remorse".
Cossar's defence counsel Louise Arroll said he understood he was acting as a courier for drugs but did not know what drug was in the packages.
He was to take them to Dundee in his mother's car for a handover in exchange for money which was to be returned to the west of Scotland.
Extra money
Ms Arroll said he had been offered "the opportunity to make some money" which he thought was a way to supplement benefits he was receiving at the time.
The defence counsel said that Cossar was involved "at a low level".
Jim Stephenson, solicitor advocate for Massey, said he was a father of three young children who worked as a scaffolder mostly in the Aberdeen area.
Chris Fyffe, for Hunter, also a father of three, said he has had a considerable time to reflect on his previous lifestyle and recognised he had to make changes.
Di Moore, counsel for Campbell, said that his involvement in the offence was to deliver money to a car.
She said: "He has advised that his motivation was purely financial, his benefits having been halted for a four week period."