Lurcher owner from Bridge of Allan fined over 'awful' neglect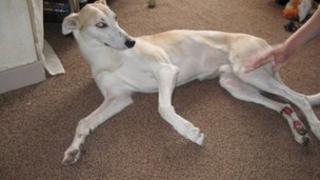 A woman failed to seek treatment for her pet dog despite it suffering a leg injury described by a vet as "awful".
And following an investigation by an animal welfare charity dog owner Jenny Walker, 33, has been fined.
But the Scottish SPCA has expressed its disappointment that Walker, of Allanvale Road, Bridge of Allan, Stirlingshire, has not been banned from keeping animals in future.
Walker was fined £400 at Stirling Sheriff Court.
She pled guilty to causing her adult male lurcher dog, Bob, unnecessary suffering under Section 19 of the Animal Health and Welfare (Scotland) Act 2006.
Putrid smell
The charity was alerted to the dog's plight when a concerned family member took Bob to a local vet.
Bob was suffering from two large open wounds on his leg which were so deep that the bone was exposed.
Scottish SPCA inspector Louise Seddon said: "The family member who found Bob said he was lying on the floor, shaking and his eyes were glazed over, a putrid smell coming from his hind leg and noticed that the leg was bandaged so tightly that the foot was grossly swollen."
She added: "When Bob was taken to the vet he was screaming in pain when the elasticated bandage was removed as it was stuck to his open wounds. The vet described the injuries as awful and assessed that they were most likely to have been caused by being involved in a road traffic accident a few days prior."
Inspector Seddon said: "Any responsible pet owner would take their animal to a vet immediately if they had sustained an injury like Bob's but Walker failed to do this and instead allowed him to suffer for days.
"We are disappointed Walker was not given a ban on keeping animals as in our opinion this was a case of gross neglect and we would have concerns for any animals kept in her care.
"When Bob was eventually taken to the vet he was immediately given painkillers, anti-biotics and anti-inflammatories. Thankfully, after several weeks of treatment, he recovered."
Bob is now being looked after by a family member, the charity said.
In 2012, the Scottish SPCA animal helpline received 195,299 calls and their rescue centres cared for 13,327 animals. A total of 55 people were banned from keeping animals in 2012 following their investigations.