Stirling conservation centre plan given £3.5m boost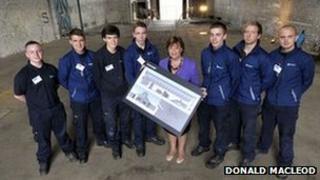 Plans to create a new National Conservation Centre (NCC) in Stirling have been backed with £3.5m.
The cash from the Heritage Lottery Fund (NLF) is part of a £6.5m funding package that includes £3m from the Scottish government's Young Scots Fund.
Historic Scotland wants the centre to be used for training and research to develop the specialist skills required for preserving historic buildings.
It will be housed in a former railway engine shed, in Forthside, from 2014.
The announcement was made by culture secretary Fiona Hyslop, who visited the area to view plans of the proposed refurbishment.
On completion, the NCC will provide a range of qualifications and classes in "traditional building skills" for young people.
Historic Scotland has also applied to the European Regional Development Fund for a further £1.9m grant.
'Visionary project'
Fiona Hyslop said: "Conserving our heritage for future generations, and developing the skills in our young people to do so, is a key focus for Scotland.
"This initial approval from the Heritage Lottery Fund is a huge boost for this important project.
"Scotland has long championed the value of nurturing traditional skills and technical expertise so I am delighted that the HLF is backing our plan to help establish a world-leading centre for conservation."
Colin McLean, head of the Heritage Lottery Fund in Scotland, described it as a "visionary project" that would "transform the skills available" for ensuring the future of Scotland's traditional buildings.
"The National Conservation Centre will become a centre of excellence for the hundreds of thousands of historic buildings which form part of our everyday lives as shops, banks and homes," he said.
Councillor Johanna Boyd, Leader of Stirling Council, said: "Not only will the centre help develop the specialist skills necessary to preserve and protect our outstanding heritage for future generations, but it will also play a major part in the ongoing regeneration of Stirling's Forthside, and create great job opportunities for local young people."