Teenager Ryan Connelly jailed for school knife attack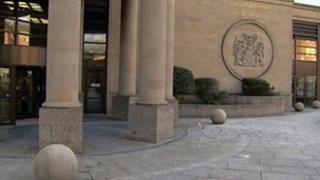 A teenager has been jailed for three years after he entered a school and tried to attack a pupil with a knife.
Ryan Connelly, 19, attempted to attack the 15-year-old boy at the school in Perth and Kinross with the knife before being stopped by a staff member.
He then later posted messages on a social networking site saying it was not the end and he would kill the pupil.
Connelly appeared at the High Court in Glasgow for sentencing.
He had earlier been found guilty of assaulting the 15-year-old to the danger of life.
His lawyer told how he had been struggling at the time due to a break-up with his first proper partner.
Judge John Morris QC told Connelly: "The use of a knife and carrying a knife is extremely serious.
"That said, you are still a young man and you clearly had mental health issues at the time."
The judge said custody was inevitable, but added: "I hope that when you get out, these courts will never see you again."
A trial heard how Connelly went into the school and demanded to know where the 15-year-old boy was.
Failed attempt
When he caught up with the teenager, he tried to stab him on the head and body, but the blade did not make contact.
Connelly also lashed out at a door and a locker before throwing the knife down.
Prior to the trial, Connelly admitted possessing a knife, committing a breach of the peace and sending abusive messages online.
He had been accused of attempting to murder the 15-year-old, but was found guilty of the reduced charge of assault.
Even though there was no injury, prosecutors argued the attack was still potentially fatal.
Gavin Anderson, defending, said Connelly had apparently been affected at the time by the end of his "first significant romantic relationship".
Mr Anderson added Connelly was deemed to be someone who was "vulnerable, immature and lacking in self esteem".