Post office staff join anti-scam campaign in Angus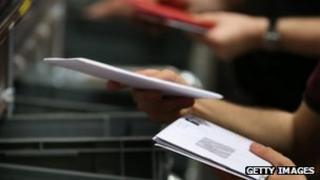 Post office staff in the Angus area have agreed to be on the look out for vulnerable customers who are being targeted by mail-drop scammers.
If they think someone is being conned out of cash in the belief they will win a prize, they will contact Angus Council and the police.
The authorities will then offer advice and support to the suspected victims.
Letham, Forfar and Brechin post offices have signed up to the campaign and will display Scam Free Angus posters.
The council said that common cons include people sending cash through the post on the promise of lottery prizes, or transferring money to internet "friends" who have asked for money under the pretext of needing help.
Earlier this year, the council became the first in Scotland to adopt a policy on financial harm and financial scams.
Forfar's sub-postmistress, Elizabeth McNeill, said: "It is surprising how many people of all ages seem to be conned out of their money.
"Although sometimes this can be just a quite small amount, people can send off money frequently.
"When I became aware that social work and trading standards in Angus were offering a service it was a great relief, as I could see people being conned into parting with their money, but didn't know what services there were to help."
Angus Council leader Iain Gaul said it was important that the community worked together to provide protection, especially those who are vulnerable.
The council said if Angus residents were aware of people falling victim to such scams they can contact Angus trading standards on 01241 435600 and Angus Council's AccessLine on 08452 777 778.
People can also follow the campaign on social media by going to @ScamFreeAngus on Twitter.