Michael Lawrence jailed for breaking baby's bones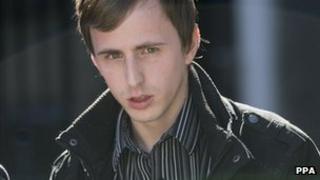 A man who threw a new born baby onto a bed, breaking several of its bones, has been jailed.
Michael Lawrence, 23, from Alyth in Perth and Kinross, threw the child because he said he had been struggling to feed him.
The baby, which was just a few weeks old, was later found to have broken ribs and a broken tibia.
Lawrence was jailed for 10 months at Perth Sheriff Court for the crime, committed in November 2011.
He admitted culpably and recklessly forcing a bottle into the baby's mouth and forcing the child's legs into clothing.
He also admitted throwing the baby onto a bed and then striking the child's body with his own, causing the baby severe injury as a result. Lawrence further admitted attacking a woman by punching her face.
The court was told that the baby suffered a break in his leg as Lawrence twisted the child's leg to put clothing on him.
Fiscal depute Stuart Richardson told the court that Lawrence had been taking care of the baby shortly after it was born to help out the child's mother because she was in poor health.
Mr Richardson said the baby fell ill and was taken to a health centre, and because of the injuries seen on the body, was referred to the child protection team at Ninewells Hospital in Dundee.
'Effectively defensive'
They found evidence of three broken ribs and a tibia break, which were in the process of healing.
Lawrence eventually came forward and admitted what he had done.
The court was told that Lawrence confessed to social workers that he had been struggling with his "anger, frustration and aggression" and had taken it out on the child.
Sentencing Lawrence, Sheriff Lindsay Foulis said: "This was a child who was less than two months old. The child was thrown onto the bed with sufficient force that three ribs were fractured.
"The child was months old and effectively defenceless. The child was utterly dependant for his care and protection. The child was vulnerable."
He added: "You have, on at least two occasions, acted in a way which has caused injury when feeding a child by using excessive force.
"It also has to be taken into account that you were not just causing injury, but causing severe injury as a result of your actions."