Gala send-off for Dundee City of Culture bid 2017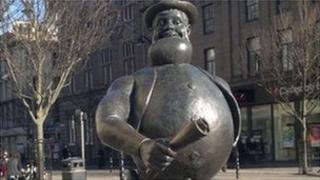 Dundee's pitch to be UK City of Culture in 2017 has been marked with a celebration of words, art and music.
Dozens of entertainers and performers, including new Dundee makar Bill Herbert, gathered in Dundee City Square for the event.
Dundee is the only Scottish contender short-listed for the title, which could be worth up to £80m and create hundreds of new jobs for the city.
The winner will be announced in November.
The final 132-page bid document, with contributions from across the city's communities, will be delivered to the UK government department for Culture, Media and Sport.
Dundee faces competition from Hull, Leicester and Swansea Bay.
'Incredible journey'
Aberdeen - the only other Scottish entry - failed to make the shortlist earlier this year.
Dundee's bid team said they had concentrated on the social impact of winning the prize.
Lord Provost Bob Duncan said: "This is a colourful and imaginative way to celebrate Dundee's bid for City of Culture status. The event in the City Square really captures the spirit and enthusiasm surrounding our efforts."
Stewart Murdoch, director of leisure and communities for Dundee City Council added: "It's been an incredible journey to get to where we are today, and a lot people need to be thanked for bringing together a bid that does the city proud, and the country too.
"More than ever I've been astonished at the level of ingenuity, imagination and genuine love of the city that thousands of people have brought us through their contributions online, their offers of support, and in conversations in shopping malls and community centres over the last 12 months."
Singer Sheena Wellington, who is one of the ambassadors for the Dundee campaign, said: "It will be a massive boost for the city economically and culturally and in confidence I think because already it's excited the people of the city.
"I mean, I always knew Dundee had a talent for the surreal but they've really excelled themselves."
The culture bid commits the city council and its cultural partners to creating a year-long programme of events and celebration focused on inclusion and engagement.
The final stage of the competition will see bid teams from each of the four shortlisted cities visiting Londonderry in November to present their proposals to the judging panel.