Six-year-old boy jagged by needle on Dundee bus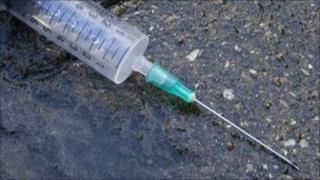 A young boy has taken to hospital after he was pricked by a hypodermic needle that was left on the seat of a bus.
The six-year-old boy had boarded the bus in Berwick Drive, Dundee, with his mother and younger sister at 14:45 on Monday.
He was taken to hospital to have the needle injury cleaned and receive a tetanus injection.
Police are looking through CCTV footage to trace who the needle belonged too.
The boy had gone up to the top deck to sit at the front of the bus while his mother and sister stayed downstairs.
As he sat on the right-hand seat he put his hand down and was jagged by the needle.
Police are unclear if the needle was left on the seat accidentally or deliberately.
It is also unknown if it had been used for drugs misuse or legitimate medical means.
Officers are urging anyone who may have any information that can help to contact them.