Pensioner killed by drink-driver in Falkirk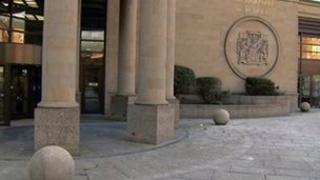 A drink-driver more than four times over the limit, killed a pensioner who was on his way to buy his Sunday newspapers.
Shaun McManus hit Korean war hero John Morton as the 78-year-old crossed the road in Falkirk last November.
McManus, 31, who was later traced by police, was remanded in custody when he appeared at the High Court in Glasgow.
He admitted to a charge of causing death by dangerous driving and will be sentenced next month.
A judge told him he had been involved in a "disgraceful and upsetting" incident.
McManus had a previous driving conviction for failing to provide a breath test.
Mr Morton was a retired whisky rep and was fatally injured after he had gone out to his local newsagents on 18 November.
CCTV footage played in court showed the widower parking his car in busy Grahams Road, Falkirk, before making his way across the street.
McManus was driving a V-reg Audi car in the area despite having no insurance.
Prosecutor Alex Prentice QC said the ground worker had earlier been heard "revving and screeching away" in the vehicle.
He was then spotted on the CCTV footage driving towards and colliding with the pensioner, despite having an uninterrupted view.
McManus then carried on driving, leaving witnesses to attend to Mr Morton.
A doctor who had been shopping in the area found the OAP lying face down on the road.
Paramedics arrived on the scene, but Mr Morton was pronounced dead.
Slurring words
Mr Prentice told the court that the pensioner died due to head and neck injuries including skull and spinal fractures.
McManus, of Grangemouth, Stirlingshire, was eventually found by police and he confirmed the Audi belonged to his mother.
Officers found him to be "unsteady on his feet and slurring his words".
McManus was found to have 145mcg of alcohol in 100ml of breath - the legal limit being 35mcg.
Advocate depute Mr Prentice said the "high level of intoxication" at the time, meant McManus was not deemed fit enough to be interviewed.
Crash investigators concluded that a "careful and competent" driver would not have been involved in such an accident.
Judge Lord Turnbull told McManus: "You drove a vehicle while four times over the limit.
"It is plain that you were drunk and in that condition you drove dangerously in a busy street.
"It is disgraceful and upsetting in the extreme to think a 78 year-old man had his life ended in such circumstances."
Lord Turnbull deferred sentencing until 13 November.