Nursery worker Danny Kilburn had 11,000 abuse images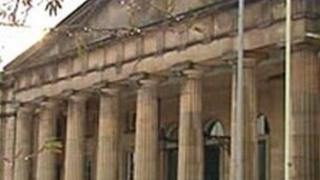 A former nursery worker has admitted being involved in the distribution of indecent images of children.
Danny Kilburn, 21, from Glenrothes, was found with a total of 11,617 indecent images of children and 340 videos.
He also admitted taking or permitting others to take indecent images of children at his home in Dundee.
Kilburn was placed on the sex offenders register and released on bail pending the preparation of reports at Perth Sheriff Court.
He had been working at the Oranges and Lemons Nursery in Dundee for more than a year when police discovered the material.
He boasted online about abusing a girl in his care, and when police raided his home he was found to have more than 11,000 images of children being abused.
The court heard how Kilburn had been distributing the material from his former home between 22 January and 9 October 2012.
He had also taken or permitted to taking the indecent images of children at his home between 3 September 2011 and 7 October 2012.
Fiscal depute Carol Whyte told Perth Sheriff Court: "On 2 October 2012, Tayside Police received information from other police forces indicating that indecent images had been accessed.
"The owner of the equipment had been communicating on chat rooms with like-minded people and had indicated that he worked in a local nursery and was abusing a female child from the premises.
"The man also boasted on the chat room site that he had a sexual interest in children whom he regularly abused. The man used the pseudonym Dan Dan when involved in the chat room.
"The information was treated seriously and urgent inquiries were carried out to trace the computer owner. The equipment being used was traced to the accused's home address.
"On 9 October 2012 a team of police officers went to the house and found the accused and his entire family present."
'Act of bravado'
Two laptops, three memory sticks and a mobile phone were seized.
Ms Whyte said: "He told the police that they would find indecent images of children on laptop computers, memory sticks and a mobile phone which were owned by him and kept in the family home.
"The accused admitted file sharing the indecent material with other people and discussing sexually abusing children with people in chat rooms.
"He claimed all this activity had taken place over the course of a maximum timescale of a year.
"He could give no explanation as to why he did this other than to say it was for the adrenalin rush he got by doing something he knew was wrong.
"He denied he had ever sexually abused children in the nursery where he worked. The police inquiry did not find any evidence of such abuse and it seems the accused's claims in the chat rooms were an act of bravado."
Parents informed
Parents of children at the nursery were informed by letter that a member of staff had been suspended pending the outcome of a police investigation.
Kilburn was then sacked.
Among his collection were hundreds of images and 16 videos rated as level five - the worst on the scale.
The court was told that it was difficult to quantify how much of the material had been distributed onwards by Kilburn, but it was at least 200 images.
Kilburn has been banned from being alone with children and using any device which can access the internet while on bail.