Dundee man William Liddell threatened party-goers with firearm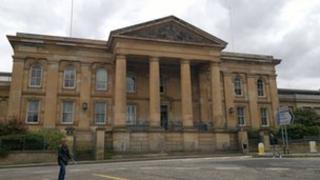 A man has admitted confronting party-goers in a neighbouring flat with an air rifle and threatening to shoot them in the face unless they quietened down.
William Liddell, 59, confronted his teenage neighbour and her friends at the top floor flat in Dundee.
Dundee Sheriff Court heard that Shannon Mackie, 19, had held a number of parties after moving into the property.
Liddell pled guilty to the the firearms charge. Sentence was deferred until next month for reports.
The court was told that Liddell had lived in the quiet tenement for 22 years before Miss Mackie moved into the block.
She was reported to have held "many late night parties".
Liddell's wife Ann was a nurse who became his registered carer after he suffered a stroke that left him mostly blind.
On 17 March, Mrs Liddell was trying to sleep because she was due to work an early shift the following day.
After being kept awake for two hours by noise, she went upstairs to ask for the party to be toned down.
Lawyer Paul Parker-Smith, defending, said that her request was met by an outburst from Miss Mackie, who allegedly pushed her back on to the banister of the third floor landing.
'Heard commotion'
Hearing the commotion, Liddell grabbed his air rifle, which he used to control vermin on his allotment, and went up the stairs.
Fiscal depute Nicola Gillespie said that he pointed the rifle towards the flat.
"He said if any more noise was made he'd shoot them in the face."
The rifle was taken by one of the witnesses and was found to be loaded.
The police were called and Liddell told them he had taken the gun because he had been threatened.
Liddell admitted possessing a firearm with the intent to cause people to believe that unlawful violence would be used against them.
Mr Parker-Smith said his client had been "an outstanding member of society" to date.
"He pleads guilty to the charge because that's what he did - he armed himself with an air rifle to take it upstairs because he was scared for his wife," he added.