Dundee International Book Prize won by Nicola White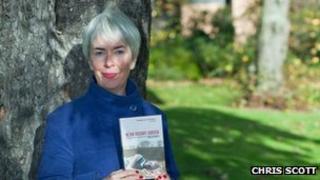 Nicola White has been named as the winner of the 2013 Dundee International Book Prize.
Her crime thriller novel, In the Rosary Garden, beat competition from more than 350 entries.
The book is inspired by a notorious true case from the 1980s of infanticide in Ireland.
The Irish debut novelist has been awarded a publishing deal and a cash prize of £10,000.
Her entry was chosen from a final three by a judging panel comprising of Brian Cox, Lorraine Kelly, Norman Foster, Claire Alexander and AL Kennedy.
The two runner up titles were Mango, written by Jeff Hayden, and What to do with Lobsters in a Place Like Klippisfontein, by Colette Victor.
The ninth winner of the competition, which has been running since 2000, was described by judge AL Kennedy as "courageous and intelligent".
Previous publications
Although In The Rosary Garden is Nicola's first novel, her short stories have been published widely and broadcast on radio.
Last year she was Leverhulme Writer in Residence at the University of Edinburgh and was the 2008 winner of the Scottish Book Trust New Writers Award.
The author grew up in Dublin and New York and now lives on the Clyde coast.
She previously worked as a contemporary art curator, in Glasgow, and produced arts programmes for BBC radio and television.
The decision to award the prize to Ms White was praised by crime novelist Val McDermid who called the book "mesmerising".
Ms White said: "I'm just very pleased that the book gets to be ushered into the world in the best way, with editorial care and a bit of fanfare - and the money is no small thing."