DIY energy plant man Charles McKenzie avoids jail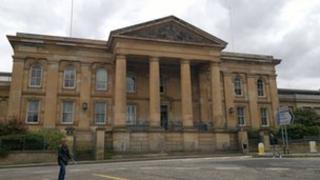 A man who built a DIY power plant in his bedroom has been given a one year community payback order.
Charles McKenzie, 55, from Dundee, set up the homemade electricity system after his power was cut off due to unpaid bills.
Police made the discovery after a strong smell of petrol and the sound of drilling was reported from his flat.
He pled guilty to a charge of culpable and reckless conduct as well as two charges of stealing electricity.
Dundee Sheriff Court was told how police and the fire service were called to McKenzie's home at 03:00 on 28 August 2012 after a complaint from a neighbour.
Fiscal depute Lynne Mannion told Dundee Sheriff Court: "There was a strong smell of fumes throughout the flat. In a bedroom there was a generator suspended by thin ropes.
"It was connected to a transformer and a car battery with an extension lead running to the living room.
"There were two cans of petrol beside the generator. It was noted McKenzie was a smoker, which would increase risk.
"The generator gave off exhaust fumes with carbon monoxide."
Desperate decisions
Defence solicitor Mike Short said: "He is in a flat too big for him - it's two bedroom and he lives alone and with the current regulations that's a difficulty.
"I believe he should be entitled to be rehoused."
Sheriff George Way said: "I just don't see that there are any sentencing options other than custody that make any sense at all. But I'm not inclined to do that.
"I appreciate what he was doing was very, very dangerous and risky, but I accept he had reached a stage where he was making desperate decisions."
Sheriff George Way issued the community payback order and ordered a review hearing in January.