Iain Speirs bags Glenfiddich Piping crown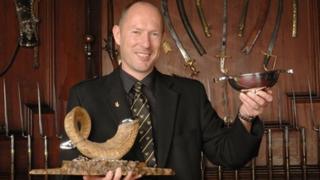 Iain Speirs from Edinburgh has been crowned the Glenfiddich Piping Champion for the second year in a row.
The event, now in its 40th year, is seen as piping's "ultimate accolade".
The Glenfiddich championship is only open to those who have achieved success in other UK solo piping competitions earlier in the year.
Pipers from around the world converged on Blair Castle in Perthshire to take part in the event, which was established in 1974.
Mr Speirs said, "When you qualify for the Glenfiddich Championship, you know that you will be up against the world's best and whatever the outcome, there is always going to be only a whisker that separates each and every one of us competing for first place."
On Sunday the 24th Glenfiddich Fiddle Championship was won by Maura Shawn Scanlin from North Carolina in the US.
She said: "The Glenfiddich Championship is a competition brimming with amazing talent and it is an honour to be invited to Scotland to compete. Winning this year, takes the experience to a whole new level."
Maggie Adamson from Shetland came second and Graham MacKenzie, of Inverness, was third.