Use of a taser was 'justified' following an investigation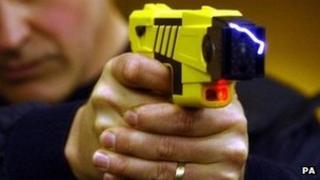 An independent investigation has found Police Scotland were justified in using a taser to control a man in Dundee.
The taser was used on the 31-year-old by armed officers when they were called to a property in the city in September.
The man was reported to be behaving in an irrational and threatening manner to unarmed police already at the scene .
The investigation by the Police Investigations & Review Commissioner (PIRC) found there was no less forceful method to resolve the incident safely.
The incident occurred on Sunday 1 September at 23:30 when armed police were called to Dunmore Street.
When the armed officers arrived at the scene the man threatened them and injured himself inside a car.
'Injury risk'
One of the officers then discharged a taser to control him and ensure that he did not further injure either himself or the officers.
The man received medical assessment but did not require medical treatment as a result of the taser, which discharges an electrical current to incapacitate the person who is hit.
The Commissioner, Professor John McNeill, concluded that "there was no less forceful method to resolve this incident safely" and that the use of the taser was "proportionate and justified".
He said: "I am satisfied that the officers considered a number of options to resolve this incident safely, including the use of CS spray, that the use of a taser was in this instance proportionate and justified."
All incidences of Police Scotland use of firearms, including taser, must be referred to the PIRC for independent investigation under current regulations.