Dundee City of Culture bid team head to Derry for presentation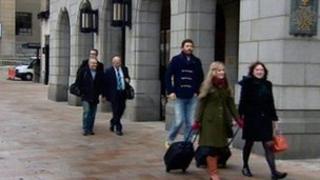 The team leading Dundee's City of Culture 2017 bid have made their way to Derry ahead of a vital presentation.
The panel of six are set to explain to the judges why Dundee should win the title ahead of announcement of the successful city next Wednesday.
Dundee is the only Scottish contender. Hull, Leicester and Swansea Bay are also making presentations.
Stuart Murdoch, part of the team doing the presentation, said he wanted to create a sustainable cultural legacy.
Mr Murdoch, Dundee City Council director of Leisure and Communities, said: "The bid team will be putting forward a compelling case for Dundee to be UK City of Culture 2017.
"Our bid is based on the strength of the arts locally and the fantastic participation by people in a wide range of activities.
"We want to show how we would build on that and create a sustainable cultural legacy to help further drive the momentum of Dundee's regeneration.
"The bid team is relishing the chance to outline our vision and explain why Dundee really deserves this title."
Singer Sheena Wellington, who is one of the ambassadors for the Dundee campaign, said: "We will all walk on air if we win because it will be us showing the world what a fabulous place Dundee is."
The winner of the prestigious title is set be announced on Wednesday 20 November.