Culture title would carry Dundee forward, says bid leader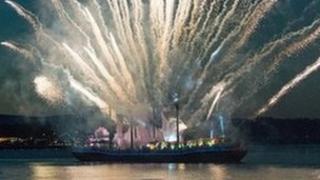 Winning the City of Culture title would be the "tipping point" to help carry Dundee forward, according to the leader of the city's bid.
Stewart Murdoch and his team are set to find out on Wednesday if they have been successful in claiming the title.
The team have revealed a £25m programme that includes more than 80 events which would take place in 2017, if they win.
Dundee is up against bids from Hull, Leicester and Swansea Bay for the award.
Last week, representatives of each of the four shortlisted cities travelled to Derry, the current holder of the title, to hand in their submissions.
Derry has attracted a number of big events over its year as City of Culture.
The team behind the Dundee bid have proposed hosting the Turner Prize, Radio 1 and MTV events and a celebration of comics if they win.
They also plan to host a football festival - bringing Italian giants AC Milan and AS Roma to the city for matches.
Mr Murdoch said winning would the title would change Dundee into a city "recognised as a great place to come too" by more people than they could do through their "own resources".