Four rescued after suspicious fire in Perth High Street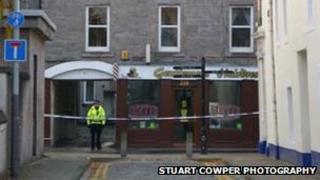 Three men and a woman have been rescued from the roof of a block of flats after a blaze in Perth High Street.
Police said two of the four were treated at Perth Royal Infirmary before being discharged.
The fire was reported at about 05:21 on Monday and three fire engines attended the scene.
Local police and fire crews are conducting a joint investigation into the cause of the fire, which is currently being treated as suspicious.