Large fire grips Tullibody farm workshop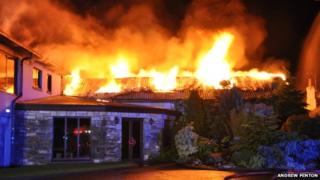 About 30 firefighters have battled a large blaze at a workshop on a farm in central Scotland.
The fire started just before midnight.
The blaze swept through the roof space of a workshop, being used as an office, which is also attached to a warehouse containing HGVs on West Gogar Farm, near Tullibody in Clackmannanshire.
An investigation into the cause of the fire is due to get under way once remaining hot spots have been dampened down by firefighters.