Life ban for dog owner who starved pet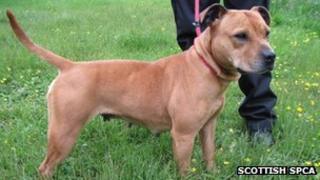 A dog owner who starved his four-year-old Staffordshire bull terrier has been banned for life from keeping animals.
Norman Lowson, 60, from Alva, Clackmannanshire, pled guilty to failing to provide an adequate and wholesome diet for the dog.
Alloa Sheriff Court heard that when Scottish SPCA officers found the animal it was emaciated. However, the dog named Kiera, later recovered.
In addition to the ban, Lowson was also fined £315.
The ban, imposed under Section 40 of the Animal Health and Welfare (Scotland) Act 2006, disqualifies Lowson from participating in a range of animal-related activities, including owning or keeping animals, working with animals and providing any service relating to animals.
'Bones visible'
Scottish SPCA Inspector Louise Seddon said, "When we visited Lowson's property in March 2012 we found Kiera to be in very poor condition.
"All her ribs, spine and pelvic bones were visible and prominent and her head looked too big for her body.
"We removed her to be examined by a vet and the vet assessed her to have a body score of 1.5 with 1 being emaciated and 5 being obese."
Ms Seddon added: "Thankfully Kiera made a full recovery in our care and she has since been re-homed to a loving family.
"We are delighted Lowson has received a life ban as he has demonstrated that he is unfit to provide an animal with even the most basic level of care."