Rangers ban teenager charged over Falkirk flare incident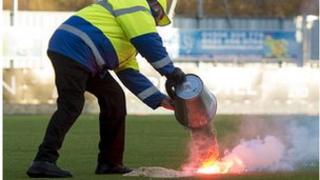 Rangers have issued an indefinite ban to a teenager charged with throwing a flare during a match with Falkirk.
Emma Leslie, 16, who denies the charges, will not be allowed to attend any home or away games.
The flare was thrown and damaged the artificial surface at the end of the Scottish Cup tie at Falkirk's Westfield stadium on 30 November.
Rangers said they were assisting police with their inquiries to identify all those involved in the incident.
Miss Leslie, of Edinburgh Road, Glasgow, denied two charges, including possessing a flare in a sports ground, during an appearance at Falkirk Sheriff Court on 6 December.
She is also accused of, while acting with another meantime unknown to the prosecutor, culpably and recklessly lighting a flare and throwing it onto the playing surface and thereby damaging the playing surface.
Falkirk FC officials said the damage to the club's new synthetic turf pitch would run to six figures.
Miss Leslie is due to stand trial in March 2014.