Motorbike menace targeted at Balkello Wood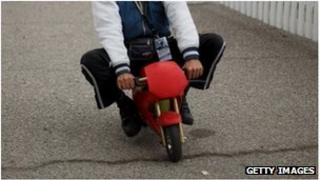 People who use scramblers or mini motorbikes at a popular Angus beauty spot are being targeted by police.
Local officers are joining forces with the Forestry Commission to clamp down on the use of the bikes at Balkello Woods, at the foot of the Sidlaw hills.
They have urged members of the public to report anyone with the vehicles in an effort to prevent damage to the wood and injury to the motorcyclists.
Police said they would be patrolling in the area in the coming months.
Constable Sean Scanlon said: ''We are all too aware of the inherent dangers that arise from the irresponsible and illegal use of motorcycles - on and off road.
"That applies to scramblers, mini and midi motos as well as the on road bikes."
'Obvious risk'
Constable Scanlon said the enjoyment of the wood by dog walkers and families was being affected.
He added: "The noise nuisance and anxiety caused by motorbikes being ridden in the area is not something they should have to contend with.
''Such behaviour causes concern for the police and our colleagues in the Forestry Commission, as well as the public, because of the obvious risks to the riders and to the public who might come in to harm's way through no fault of their own."
Robin Lofthouse from the Forestry Commission's Tay Forest District, said there had been an issue with the use of unauthorised vehicles in the wood for a number of years.
He said: "Their use destroys people's quiet enjoyment of the site and causes damage to the picnic areas and trails."