Craig Tilbury jailed for Father's Day killing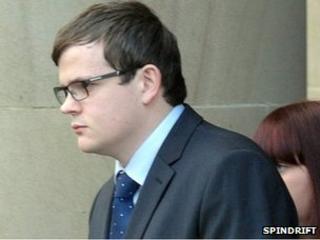 A helicopter engineer who killed a man with a single punch has been jailed.
Craig Tilbury, 25, from Laurencekirk in Aberdeenshire, admitted administering the deadly blow to James Simpson on Father's Day last year.
The High Court in Glasgow heard that the pair had earlier been involved in an argument at the Crown Bar in Blairgowrie, Perthshire.
Tilbury admitted culpable homicide and was jailed for three years.
Advocate depute Bill McVicar told the court that Mr Simpson, who was 44 and lived with his partner and her two children in Coupar Angus, was in Blairgowrie to meet his father and spend Father's Day with him on 16 June.
They had a meal and a drink together before Mr Simpson left his father and went to the Crown Bar at about 22:00.
'Clearly angry'
Mr Simpson became intoxicated and was asked to leave, but as he did so he made a lunge at Tilbury and struck him on the chest.
Mr McVicar told the court: "After this incident, the accused was clearly angry and wound up.
"At about 11.05pm he told his girlfriend he was going to the toilet, but instead went outside."
Mr Simpson was standing on the other side of Public Street in Blairgowrie at a taxi rank.
The prosecutor said Tilbury ignored a barman's pleas to "leave it" and instead approached Mr Simpson, hitting him on the left side of the head.
Mr Simpson immediately fell to the ground and Tilbury walked away.
'Common scenario'
Mr Simpson was taken to Ninewells hospital in Dundee but was pronounced dead after suffering bleeding on the brain.
Mr McVicar had told the court that the brain injury was "inevitably fatal" and caused by a single punch.
But he added: "The force of the blow was not out of the ordinary for what might be encountered in a typical fight.
"The pathologist was of the view that the injury here was in that sense an uncommon consequence of a fairly common scenario. He also said such injuries are relatively uncommon."
Passing sentence, judge Norman Ritchie QC told Tilbury: "You approached Mr Simpson without warning and as he turned you hit him and he fell to the ground.
"What is remarkable in this case is that after that criminality you realised the enormity of what you did and got in touch with the police even before the paramedics got to the scene.
"I take into account your response to the incident, your contrition and your remorse, which is clearly genuine."