Drunk driver Stewart Williamson killed Dutch tourist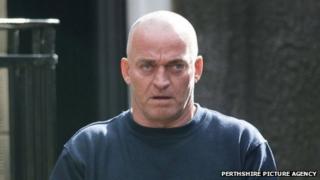 A drunk driver mounted a kerb and fatally injured a Dutch tourist on the day he arrived in Scotland.
The High Court in Edinburgh heard that Stewart Williamson drove into Eduard Goudsblom in Perthshire in April 2013.
The 70-year-old Dutch national was dragged underneath Williamson's Ford Galaxy and died from his injuries.
Williamson, 55, of Pitlochry, admitted causing death by dangerous driving, while under the influence of alcohol. He will be sentenced next month.
The court was told that Mr Goudsblom and his wife, from Zetten in the Netherlands, had arrived in Scotland on 6 April and had been planning to spend a few days walking in Perthshire before travelling to the Isle of Skye.
They had booked a guest house in Pitlochry with a friend, Antonios Jensson, and had gone to the Moulin Hotel for a drink in the evening.
Advocate depute Leanne Cross said that just before midnight, Mr Goudsblom, his friend and some others had left the hotel and were standing in front of the building.
She said: "Their attention was immediately drawn to the sound of a car approaching, coming up the hill.
"From the sounds of the engine they formed the view that it was being revved excessively and was approaching at speed," she said.
Ms Cross said that a few seconds later the Ford Galaxy appeared in the roadway.
The vehicle collided with the rear bumper of another car before mounting the kerb and hurtling towards Mr Goudsblom and Mr Jensson.
'Signs of life'
The advocate depute said: "Mr Jensson had no time to fully think or react but he tried to grab the deceased and pull him to safety."
Mr Goudsblom was hit by the bonnet of the oncoming vehicle and then struck the windscreen before being thrown onto the road.
The vehicle continued dragging him underneath it before stopping a short distance away, the court heard.
When emergency crews arrived, police tried to lift the vehicle with a car jack but were unable to free Mr Goudsblom.
Firefighters used an air bag to lift the Galaxy enough to free him, but paramedics found no signs of life.
Williamson, a father of three, was asked who had been driving and replied: "It was me I suppose."
Ms Cross said that he provided a breath sample of 108ml, just over three times the legal drink driving limit.
Following his guilty plea, Williamson's counsel asked for bail to be continued ahead of sentencing next month.
However, judge John Beckett QC remanded him in custody and said: "Such is the gravity of this offence that I am not prepared to continue bail at this stage."