Survey over Glen Lyon estate access problems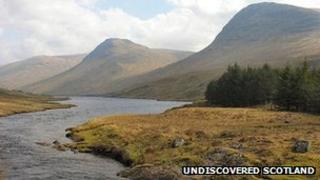 A public survey is to be carried out to gauge the extent of access problems at an estate in Glen Lyon, Perthshire.
Long-running problems on the North Chesthill Estate have seen a stream of complaints from hill walkers who say their right of access is being denied.
The estate's owner has previously said there was a conflict of interest between the rights of the public to roam and his right to make a living.
The online survey has been launched by the Mountaineering Council of Scotland.
At the most popular starting point for a Munros circuit, a gate is regularly locked and signs imply that access is forbidden.
David Gibson, chief officer of the Mountaineering Council of Scotland (McofS), said Perth & Kinross Council, which has the legal duty of enforcing access rights, had held discussions with the estate owner but so far had failed to solve the problems.
At the end of last year, the MCofS wrote to local MSP John Swinney, asking him to take action in view of the lack of progress by the council, but it was disappointed by his response.
'Increasingly frustrated'
Mr Gibson said: "Our members and other hill walkers are becoming increasingly frustrated by this blatant flouting of the Scottish Outdoor Access Code and that is why we wrote to Mr Swinney.
"We had hoped that he would intervene to see that the law is upheld but his response was brief, and simply copied us in on the correspondence he had received from the local authority and access forum.
"Given his previous support for the Land Reform (Scotland) Act 2003, we would have hoped for stronger support."
Mr Gibson added: "The North Chesthill Estate has been restricting the statutory right of access for many years.
"Perth and Kinross Council, the Perth and Kinross Outdoor Access Forum, Ramblers Scotland and the Mountaineering Council of Scotland have all been involved in discussions with the owner but he still continues to lock gates and erect signs stating 'Deer management in progress - please walk elsewhere'.
"The locked gates and signs effectively close the whole estate to access.
"In effect, the landowner is being allowed to prohibit access and responsible walkers are being denied their statutory rights."
Mr Gibson pointed out that many walkers travel long distances to access the hills and said that in 2009 the value to the Scottish economy from walking tourism was estimated to be £533m a year.
Alastair Riddell, who owns the Chesthill Estate, has previously said his business was cut by two-thirds over the past few years, because of pressures created by "irresponsible walkers" on the estate.
He said problems included hill walkers inadvertently chasing away a deer herd, while he was carrying out deer stalking on the estate.
Mr Riddell said there was an "imbalance" between what was sustainable for an estate owner and the access code.
Current laws state that everyone in Scotland can exercise access rights over most land and inland water in Scotland, at any time of day or night, providing they do so responsibly.
The MCofS survey can be found at https://www.surveymonkey.com/s/GlenLyonSurvey.