Charles Codona convicted of violence after children's courtroom evidence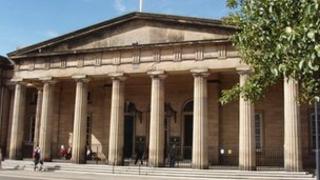 A sheriff has praised two young boys over their evidence in court which helped convict a man who was violent towards them.
The boys told how they were beaten up and injured by fairground ride operator Charles Codona.
Codona, 50, was convicted of punching and slapping a 13-year-old boy around the body and slapping a ten-year-old boy on the legs last year.
He was also found guilty of threatening the older boy with further violence.
Both boys, from Perthshire, were praised after giving their evidence to the trial at Perth Sheriff Court on CCTV cameras.
Sheriff Lindsay Foulis said: "Having heard the evidence I am satisfied beyond reasonable doubt that the charges are established.
"Both of the boys were both credible and reliable. I thought both came across as exceptionally bright young kids and there was nothing to cause me to doubt what they were saying."
'Visibly distressed'
Fiscal depute Rebecca Kynaston said: "We heard the evidence of the two children. They answered every question put to them in a straightforward manner.
"They have not tried to exaggerate what happened to them. They were both very clear Charles Codona was hitting them."
She added: "They came across as both credible and reliable and, given their ages, were good witnesses. They spoke to being terrified of the accused."
The 13-year-old boy, who was visibly distressed giving evidence, would only repeat the threat Codona made after being told he was allowed to swear in court.
"I don't like talking about it," he said. The schoolboy, who cannot be identified for legal reasons, said Codona had hit him "everywhere on the body."
He told the court that he could tell from the way Codona was speaking that he was drunk and that the alcohol was encouraging him to slap them harder.
The boy said that when he was at home with his mother he was afraid because he feared that Codona would turn up and attack him again.
He told his aunt what had happened and she called in the police.
'Bad words'
Codona was arrested but continued to deny any fault until he was found guilty at the conclusion of the trial.
The ten-year-old boy told the trial: "He said bad words. I was really sad and scared. He hit my head and legs."
He said Codona had attacked him after becoming annoyed with the child play fighting with his brother.
The boy said he had gone to "the shows" with his brother.
Cambuslang resident Codona had sentence deferred for good behaviour after being found guilty of committing the offences in Blairgowrie.