Stirling 2014 project loses creative director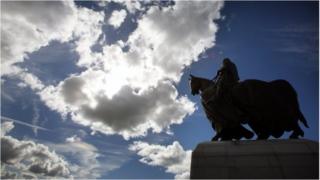 A year-long event to coincide with the 700th anniversary of the Battle of Bannockburn has been dealt a blow after its creative director left her post.
Iona Crawford was brought onboard the Stirling 2014 project only nine months ago.
The award-winning fashion designer played a key role in branding and planning the celebrations.
Stirling Council said delivery of the event was now being handled by officials.
A Stirling Council spokeswoman said: "Stirling Council commissioned Iona Crawford to deliver on specific elements around the branding and launch of Stirling 2014.
"These included creating the Stirling 2014 branding, designing and producing a promotional film to support the brand, the Stirling 2014 website and the Stirling 2014 launch event in May 2013.
"Iona was also involved in helping to shape the Stirling 2014 programme of events, which was subsequently launched in September 2013.
"Since then, the project has moved into the delivery phase and is now being led by Stirling Council officers. It would not be appropriate to discuss further the confidential details of a contract between the council and any individual."
Earlier this month it was announced that the Bannockburn Live event, which was to be a centrepiece of the year-long Stirling 2014 project, was to be shortened from three days to two after reports of poor tickets sales.
Bannockburn Live, which is being managed by VisitScotland rather than the council, will now be held on Saturday 28 and Sunday 29 June, with organisers saying they have sold about 2,000 tickets so far.