Police mount hunt after search dog goes on the run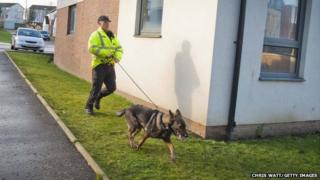 Police had to mount a search for one of their own dogs after it escaped during a training exercise near Dundee.
Police Scotland officers were taking part in a training exercise at the old Ashludie Hospital building in Monifieth on Tuesday when the black Labrador made its bid for freedom.
It was tracked down by an Angus council dog warden and taken to local kennels near Arbroath on Tuesday.
The force will pay for the recovery of the animal.
A large-scale search was mounted after the dog escaped from an unsecured cage in a dog unit van.
A spokesman for Police Scotland said: "We are currently checking the circumstances but it would appear that the cage had not been secured properly.
"A short time after the dog went missing it was found by the local dog warden and taken to the local kennels where it was reunited with its handler."
Specialist resource
The escape came the day before Scottish Justice Secretary Kenny MacAskill visited Dundee to praise the work of police dogs.
Police dogs across Scotland have attended more than 15,000 call-outs since last July, helping to trace 285 vulnerable individuals and recovering drugs worth in excess of £575,000.
They are trained to sniff out drugs, explosives and firearms, as well as missing or vulnerable people.
Mr MacAskill said: "The dog unit is especially skilled in assisting community resources in all sorts of situations, from catching criminals to finding vulnerable people.
"They are a great example of Police Scotland's ability to use specialist resource effectively to tackle local issues."