Forth Valley projects get £2 million Heritage Lottery boost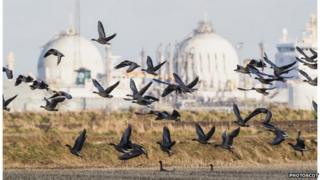 A project to revitalise historic sites and wildlife habitats along the Forth Valley has been boosted by almost £2 million from the Heritage Lottery Fund.
It will fund 50 projects in the Inner Forth Landscape Initiative (IFLI), protecting historic areas, connecting habitats and providing education.
The IFLI covers an area stretching from Stirling to Rosyth and Blackness.
Local authorities, Historic Scotland, SEPA and RSPB Scotland are among the groups taking part.
The IFLI consists of 50 individual projects that will run over the next four years, supported by the £1.9 million award.
Access to the Clackmannan Tower and the Black Devon Wetlands will be improved, as will management at important wildlife habitats at Bo'ness and Kinneil Estate.
Colin McLean, Head of the Heritage Lottery Fund in Scotland, said: "Nature lies at the very heart of what makes Scotland special but the enormous pressures upon it mean that we have to approach its restoration and conservation on a bigger scale than ever before.
"Our Landscape Partnership programme does just that, and more, and we are delighted that the Inner Forth will benefit from this approach.
"The area is often perceived as devoid of interest because of its industrial character when in fact its natural resources and meandering river make it rich in both built and natural heritage."
Work by community groups to research local mining and trading history will also be funded by the project.
While the area is rich in industrial history, showing evidence of ancient ports and harbours as well as mines and distilleries, it also hosts several key natural habitats.
Thousands of wading birds and wildfowl such as pink-footed geese take refuge in the expansive mud flats along the river during winter.
'Exciting programme'
The Royal Society for the Protection of Birds Scotland led the partnership which developed the IFLI, and regional director Anne McCall said she was proud to be part of the "exciting programme".
She said: "There is huge potential within this landscape for conservation and restoration of not only natural heritage sites, but also those of built and cultural heritage value.
"Working with communities and partners is a key focus for the IFLI team and through this we believe we can improve and increase access to the Inner Forth landscape for current and future residents and visitors."
The IFLI partnership is made up of RSPB Scotland, Scottish Natural Heritage, Falkirk Council, Stirling Council, Clackmannanshire Council, Central Scotland Forest Trust, Sustrans, Historic Scotland and the Scottish Environment Protection Agency.