Imax cinema screen to be installed at Perth's Playhouse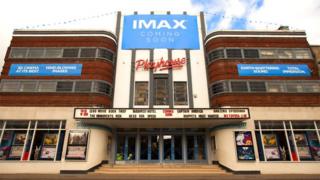 Perth's Playhouse cinema is set to become home to an Imax cinema.
The cinema's owners have struck a deal to install the giant screen as part of a major refurbishment of the art deco building.
The deal makes the Playhouse the first independent cinema in the UK to house an Imax facility, and the only one in Scotland north of Glasgow and Edinburgh.
The cinema will remain open during the upgrade, which should start next month.
Screen One at the B-listed building on Murray Street is set to be transformed into a state-of-the-art Imax experience, and the cinema's interior and food court are also in line for a refit.
The development comes after a deal was struck between cinema owners G1 Group and the Imax Corporation.
G1 Group managing director Stefan King said this was the first time Imax had agreed to work with an independent cinema operator in the UK.
He said: "The revitalisation of Perth Playhouse marks the perfect marriage of Scotland's cinematic history and the world's most advanced cinematic technology.
"We are delighted to partner with Imax and together look forward to ushering a new era of movie-going at this landmark site."
Andrew Cripps, president of Imax in Europe, the Middle East and Asia, added: "We are excited to be a part of the evolution of the historic Perth Playhouse and of the movie-going experience in this rich and vibrant community."
'Revolutionise cinema-going'
Ken Creelman, G1's cinema development manager, said the venture would revolutionise cinema-going for people across Perthshire, Tayside and Fife and central lowlands.
He said: "The Imax experience is like no other and we are so excited to see the reaction and response this will get from our customers.
"Perth Playhouse has been at the centre of the community for so many years but we're confident it will now become a mecca for cinema-goers from across Perthshire, Tayside and Fife."
The seven-screen Playhouse cinema first opened in 1933.
The art deco building was designed by Kingussie-based architect Alexander Cattenach Jr.
Plans are in place for the other six screens and the food court at the cinema to remain operational throughout the renovation process.