Court clerk cleared of T in the Park cocaine charge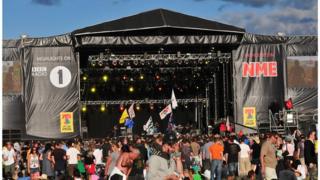 A court clerk caught with cocaine in her handbag as she entered T in the Park was cleared of having the drug.
Michelle Baillie was found not guilty despite a trial being told that she admitted the handbag was hers.
Baillie, the sheriff clerk depute at Falkirk Sheriff Court, had gone to the festival at Balado in the company of a convicted drug dealer.
The 37-year-old accepted cocaine was found in her bag during a search but said she did not know how it got there.
Security supervisor Paul Wright, 44, said a car driven by Scott Park was pulled over and cannabis and mephedrone were found in it so the occupants, including front seat passenger Baillie, were searched.
A small plastic bag containing white powder was found in the bottom of her handbag under a large amount of crumpled tissue.
Security officer Cora Woodhouse said Baillie was "rather relaxed" when the drug was found and made no suggestion it could have been put in her bag by anyone else.
Baillie had said: "I'm suspended at the moment. I would lose my employment."
She admitted the drug was found in her handbag but claimed she did not know it was there and incriminated her friend and neighbour Park.
She told the court she had gone to the festival with her sister, her friend and Park - a criminal with a High Court drugs conviction.
'Harsh lesson'
Baillie told Perth Sheriff Court she had only known Park for "two or three" months but had allowed him to use her bag to keep his money in during the festival because his shorts did not have pockets.
She said she had expected Park to give evidence in her defence but said he had failed to show up.
She said: "I had a suspicion because Scott was the only person in and out of my bag.
"I was in shock when I got pulled out and I didn't know what was going on. I had nothing to hide. I was happy for my bag to be searched. It's been a harsh lesson learned."
The 37 year-old, from Livingston, denied being in possession of cocaine at the festival car park on 14 July last year.
Sheriff Michael Fletcher said: "The question I have considered is whether that was a reasonable doubt which would justify acquittal. Taking into account the evidence in relation to the driver of the vehicle and the circumstances of the search I have come to the conclusion it is a reasonable doubt.
"In my opinion, the appropriate verdict is not guilty."