Colourist paintings included in £900,000 auction haul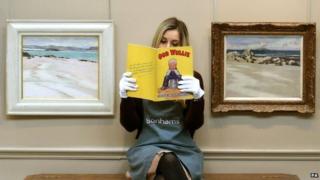 Paintings by Scottish artists including each of the four Scottish Colourists have changed hands for more than £900,000 at an auction in Edinburgh.
Work by the renowned post-impressionist group went under the hammer alongside other Scottish items including the first Broons and Oor Wullie albums.
The highlight of the paintings sale was a view of Iona by Francis Cadell, which sold for £84,100.
Ninety-six paintings sold for a total of £913,513 in the Bonhams auction.
The second most expensive item that sold was another Cadell painting, Summer Garden, which changed hands for £74,500.
Another Cadell, Cassis Harbour, sold for £23,750, while fellow Colourist Samuel Peploe had a painting sold for £31,250.
John Duncan Fergusson, the leading figure of the Scottish Colourist movement, also had two paintings ranked in the top ten most expensive lots, with Paris Plage selling for £50,000 and a view of Princes Street in Edinburgh going for £38,750.
'Strong performance'
A copy of the first Oor Wullie album, published in 1941, fetched £6,875, while Broons annuals from 1940 and 1942 sold for £6,874 and £5,000 - roughly double what they were expected to sell for.
Bonhams' head of paintings in Scotland, Chris Brickley, said: "Interest in the Scottish Colourists remains high, with Cadell in particular performing strongly.
"The highlight was Cadell's painting of Iona.
"Cadell visited Iona almost annually from 1912, attracted by its beauty and the fleeting effects of climate and light, and the pictures are considered the archetypal Colourist pictures."
The Bonhams Scottish sale took place at the firm's salesroom on Queen Street in Edinburgh for the 15th year in a row.
The annual sale by the leading auction house traditionally took place in the autumn, but has now moved permanently to late spring.